TESTIMONIALS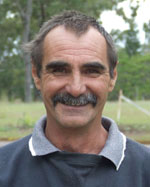 Barry is a 45 year old professional boat builder who recently purchased a large 2 bedroom Flat Pack Kit Home on a steel floor system to live in. Barry's Home is finished and he has moved in. Here is what Barry has to say;
"This home is a bloody beauty."
"It took me and two mates less than a week to put it together and I saved not thousands but tens of thousands."
"I love the fact that it came pre painted inside and out and the insulation has made heating and cooling so cheap."
"I am happy to recommend a Flat Pack Kit Home to anyone thinking about a new home."

Sandy is the owner of a successful and professionally operated caravan park which has more than 12 quality cabins used for both short term and overnight accommodation. Sandy recently purchased a 1 bedroom Flat Pack Kit Home for use as a park cabin.
Sandy says;
"We are very happy with our newest cabin from Flat Pack Kit Homes, it looks great from both inside and out and we saved quite a lot of money compared with any other cabin we could find on the market."
"We also think the insulated pre painted Colorbond wall surfaces will save us more money over time as they will be very low maintenance and are energy efficient. "

Margaret is the manager of a unit complex. There are 37 Flat Pack units in the complex.
Margaret says:
"I have never seen homes built this way before and I am amazed at how much better than normal units they are."
"They are very economical to heat and cool due to the insulation in the roof and wall panels."
"They look great and are very low cost in terms of ongoing maintenance."
"Our tenants are happy and the construction of our 37 units came in at over $400,000 cheaper than any other way we could find to build."
"I have no hesitation in recommending a Flat Pack home to anyone who may be looking for a new home."